English Defence League founder Tommy Robinson has released footage of himself fighting with a gang of masked men outside a McDonald's.
Former EDL leader blames 'left-wing extremists' for the attack at fast-food chain branch in London
Robinson, whose real name is Stephen Yaxley-Lennon, said he was approached by the group at a branch of the fast food chain in London.
He did not specify what part of the capital he was in, but police later confirmed it was in the northern district of Harringay.
He claimed that he was attempting to report on what he described as an Antifa or anti-fascist "bootcamp" when he was approached.
He later posted video of the incident on his YouTube channel.
Wearing balaclavas, the group of men can be seen walking towards him with their faces covered.
Yaxley-Lennon asks them if they want to go "one on one" before a fight breaks out.
The 35-year-old, who now works for Canadian right-wing news outlet Rebel Media, then trades blows with the group. At one point he can be seen falling onto the floor.
One of the men also wrestles with his camerawoman. Yaxley-Lennon later claimed that the men were "left-wing extremists".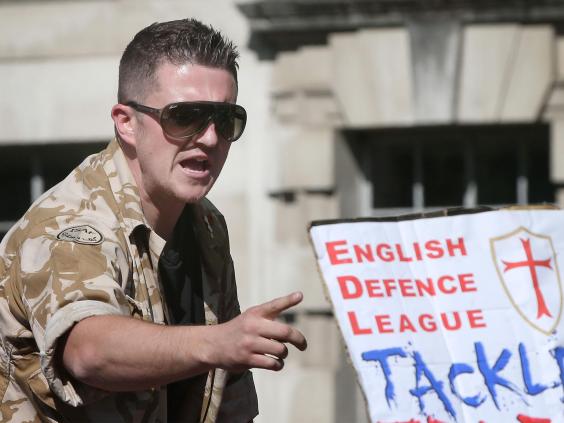 "We were getting the cameras ready in a nearby car park when six masked thugs showed up and attacked me and my camera crew, including my camerawoman Lucy." he wrote online following the incident.
"This is typical of the gangs who call themselves 'anti' fascists. They proudly tout the values of socialism and tolerance while remaining completely intolerant of all those who have different political beliefs to them.
"They have shown today that they will even go to the lengths of physically attacking women – just for their beliefs."
Commie AntiFa protester hit by truck while opposing Christian event in…
He added: "When the police come, they have already said straight away that they are not going to take this any further because we don't know who they are".
But Scotland Yard said that "enquiries continue" into the incident, although no arrests have been made.
Watch:
Free speech is under attack. Share this article on Social Media by clicking the share button, do your part to keep independent journalism going.