Joy Behar is literally the worst. She is literally the worst person in the world. Jean Ralphio where you at?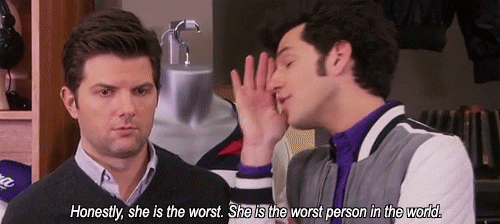 Remember the great Elizabeth Hasselback vs. Rosie O'Donnell bout on The View back in the day? We may be witnessing an Episode III-esque Revenge of the Hag reboot. In the blue corner, Joy Behar. Traditionally responsible for most of the shrill stupidity seen weekday mornings (see Joy Behar Officially Loses Mind: Makes Unhinged Claims About Trump, 9/11 Terrorists And Stoning…and Watch: Dumbo Joy Behar Accuses Pro-Lifers of Hypocrisy For This RIDICULOUS Reason).
In the red corner, Meghan McCain. Who I presume producers assumed to be more RINOy than past token conservatives. Jokes on them!
Here's a clip from today's show (Below).  They were talking about the Rob Porter scandal. McCain wanted a respectful conversation. Behar missed her Metamucil in the morning and just wanted to whine about Republicans. At which point McCain got all honey badger don't care on her.
"I'm actually going on the Van Jones show on Saturday and I'm looking forward to talking about this in a way that is respectful and not being told that just because I'm a Republican I'm offending you. We are not going to move a needle throwing out platitudes like that, and I would like to have a real conversation about it."
So do we.
And Meghan McCain is making The View waaaaay more interesting. She's giving us a reason to suffer through watching clips of the wrinkled saddlebag that is Joy Behar.
So again. Joy Behar. You are the worst. (See: The View's Joy Behar Feels 'Sorry' for Melania Trump Saying She Had to Sleep Donald and It takes very few words for Donald Rumsfeld to hilariously shut down liberal 'The View" and Joy Behar)
Free speech is under attack. Share this article on Social Media by clicking the share button, do your part to keep independent journalism going.