Dozens of spoiled NFL brats followed Colin Kaepernick's lead to start disrespecting the American flag before each game this season.  The net result to date? Millions of fans have boycotted the league.
Instead of firing the offenders, the NFL is offering them a payoff to stop kneeling.
NFL Thanksgiving Primetime Ratings DROP by 10 Percent
NFL athletes are now feuding with each other after the NFL offered a staggering $100 million pot of money that could support community efforts that would target issues raised by players during their national anthem protests.
After word of the offer became public, Miami Dolphins safety Michael Thomas and San Francisco 49ers safety Eric Reid withdrew from the Players Coalition on the grounds that its decisions were not ones in which they had a role, according to USA Today.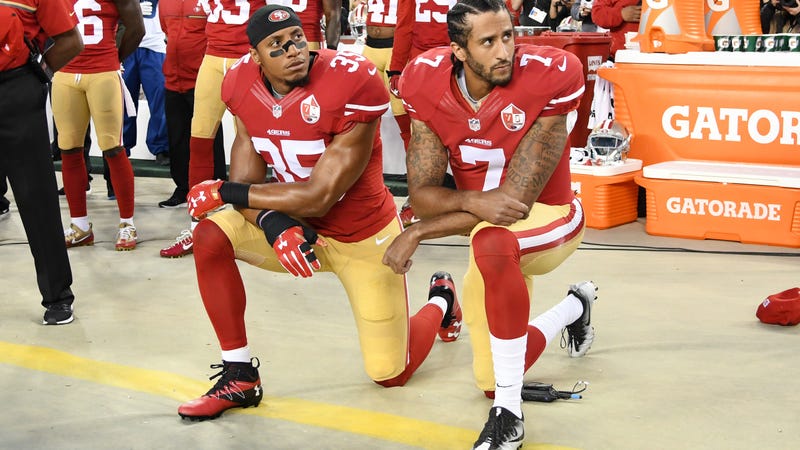 NFL pockets billions of dollars thanks to taxpayers and small businesses
The money will be combined with contributions from players and distributed over seven years to support the player's favorite liberal causes.  The money obviously set up to prevent more kneeling going forward, but the issue is it won't require them to.
— Eric Reid (@E_Reid35) November 29, 2017
"NFL owners seem poised to donate nearly $100 million (including some contributions from players) over seven years to support the favorite social justice causes of the players. But in a perfect show of how incompetent they are, the owners will get nothing from the players in return. No promise to stop disrespecting the national anthem or any other meaningful concessions," Fox News reported.
Country singer mocking NFL protests goes viral
"Who taught these clowns to negotiate, Neville Chamberlain? Obviously, they are used to trying to buy their way out of problems. Can you even imagine the sum total spent bailing their pampered players out of legal beefs, domestic violence, and sexual misconduct issues? It would likely dwarf even Congress and Hollywood. But do they really think this will solve their problem?"
The money would be donated over seven years—one-quarter to the United Negro College Fund, a quarter to Dream Corps, a social justice accelerator, and half to the Players Coalition for players to put toward individual causes. There are valid arguments on both sides for why players should have rejected the offer or accepted the money from the owners.
But, we will see.
Free speech is under attack. Share this article on Social Media by clicking the share button, do your part to keep independent journalism going.