Opportunities were missed by UK authorities to uncover sexual exploitation of teenage girls, a serious case review has brought to light.
A report found there were 14 missed opportunities, and criticized social services for not investigating concerns when the girls repeatedly got pregnant.
A review exploring what lessons can be learned in the wake of a child sex abuse case in Yeovil has been published today (November 2).
What happened?
Between 2010 and 2014, Ahmet Kurtyemez, 29, and Mehmet Citak, 34, "systematically abused" six children, aged 14 and 15 at the time.
The review published today (November 2) focuses on learning the lessons from two victims, referred to a 'C' and 'Q'.
('MIGRANTS' arrested for gang rape of 14 year old girl)
Child 'C' and child 'Q' believed they were "in love" with the men, despite both being considerably older than them and already married.
The police investigation into the case was called Operation Fenestra.
Somerset Safeguarding Children Board (SSCB) said improvements had since been made to services.
How long did it go on for?
The abuse went on over a period between 2010 and 2014.
What was the impact on the victims?
Speaking after the sentencing of the two men, Detective Inspector Lindsay Sherlock said that Citak and Kurtyemez had "abused the trust of the victims for their own sexual gratification," and that they had been "cruelly robbed of a normal childhood".
She said: "The men systematically abused these young children over a number of years, slowly eroding their confidence and making them think these crimes were acceptable.
"The victims in this case were cruelly robbed of a normal childhood and I have no doubt will have a lasting effect on all of them, as well as their families.
(Muslim 'Police' Now Patrolling European Streets, Similar Groups In Minnesota)
"These men have refused to take any responsibility for these truly despicable crimes, forcing some of their victims to relive their ordeal by giving evidence at the trial."
What is a serious case review?
According to the NSPCC, a serious case review takes place after a child dies or is seriously injured and neglect or abuse is thought to have been involved. It examines what happened to help avoid similar incidents happening in the future.
The serious case review, commissioned by SSCB, looked at the case of two of the girls, dating back to 2010.
("We Are Coming And We Will Take Your Country" Muslim Biker Gangs And Boxing…)
The young girls told investigators they thought they were in relationships with the men, who ran a barber shop and piercing studio in Yeovil.
The review found possible signs of abuse were missed by professionals, including an occasion when one girl had a pregnancy termination aged 15.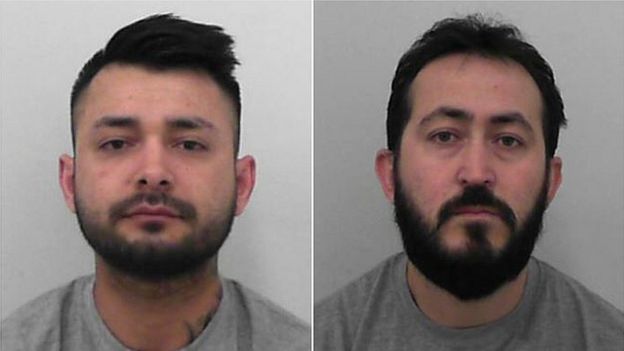 It also revealed one girl was visited by one of the men while she was an inpatient at a mental health hospital in Somerset, and got pregnant again.
The report said lessons must be learned after one of the girls was wrongly taken to court for alleged racial abuse against her abuser, while her abuser was not investigated until years later.
(Muslim Grooming Gang: 6,000 Child Abuse Allegations From 'Hotspot' Sandwell in Five Years)
SSCB chairman Sally Halls said there were "points at which opportunities were missed to uncover the real nature of what was happening" and "valuable lessons" to be learned.
'Public Perception of Child Sexual Exploitation'
"The public perception is that child sexual exploitation is something that happens only in big cities, usually in other parts of the country," she said.
"The uncomfortable truth is that it can happen to children of all backgrounds in communities across the country, including a rural county like Somerset."
Julian Wooster, director of children's services at Somerset County Council, said: "By not providing consistent social workers at the time we didn't actually get to know the young people, understand their issues and understand what was happening in their lives outside the family home."
He said more social workers has since been recruited.
(MASS RAPE of White Girls by Muslim Gang 'EASY MEAT')
Mehmet Citak, 34, of Bradford Abbas, Dorset was convicted at Bristol Crown Court last year of two counts of rape and seven counts of sexual assault. He was jailed for 20 years.
Ahmet Kurtyemez, 29, from Swindon, was sentenced to 12 years for six counts of sexual assault.
H/T BBC
Free speech is under attack. Share this article on Social Media by clicking the share button, do your part to keep independent journalism going.