We're not big fans of the feminists, or feminist protest groups in general. Their methods tend to be a little lacking (see New Feminist Crisis: Sexist 'Emojis' are Oppressing Women Everywhere. Yes, Really…). But in this case, the person they've picked to protest is an actual evil villain — Roman Polanski, or Hollywood's favorite child rapist. Apparently he was in France being showered with praise at a film event. That's where Femen intervened. Time to deploy all the chestbags, ladies!
(WARNING EXPLICIT) Watch Femen activists protest an event honoring director and convicted child rapist #Polanski pic.twitter.com/96AShCtqBq

— RT (@RT_com) October 31, 2017
(Related: This Is The Most BETA Facebook Post By A Male Feminist You Will Ever…)
French feminists have interrupted a retrospective of a film-maker Roman Polanski in Paris, with a topless protest against the Franco-Polish director.

Two women, whose upper bodies were daubed with the words "Very Important Pedocriminal" yelled "No honours for rapists" at 84-year-old Polanski, who was presenting his latest film.

They were rapidly ejected from the prestigious Cinémathèque Française film archive premises and continued their protest with others outside.

"If rape is an art form, give Polanski all the [Oscars]," read one banner waved outside the venue.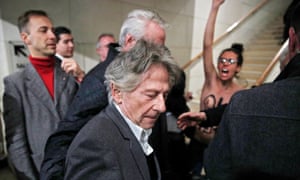 (Related: Feminist Pens Article To Make Men Better: '20 Things Men Can Do RTFN to…)
Again, I get lost somewhere in the whole "lets protest rape by showing our bewbs!" line of logic. Maybe they figured Pedophile Polanski would be offended by their matured mammaries.
Still, you have to give props to FEMEN for fighting Polanski harder than Hollywood ever did (see SAVAGE! James Woods RIPS Fake Feminist Lawyer Lisa Bloom For Attempting to Discredit Weinstein…). In a strange twist of fate, these feminist ladies are voicing their concern for a legitimate injustice. Meanwhile rape apologist Meryl Streep gives sexual abusers standing ovations while crying "WAGE GAP SEXISM!"
(Related: Feminists Losing Their Minds Over Facebook Post About Sandwiches)
A friendly word of advice to Femen though? Maybe seek a different method of protest. It's hard to take the group seriously with all those udders swinging about.
Free speech is under attack. Share this article on Social Media by clicking the share button, do your part to keep independent journalism going.