A Christian university in Idaho has dropped its "Crusaders" mascot, claiming "there has been a growing diversity of opinion regarding the mascot and nickname" in recent years that led to the change.
On Monday, Northwest Nazarene University President Joel Pearsall announced the institution would be adopting "Nighthawks" as its new nickname. Pearsall's announcement concluded a lengthy process in which university stakeholders moved to drop the crusaders moniker, according to an article published on the school's website.
(Related: Iowa State University SOCIALIST call for execution of President Trump)
From the article:
Over the past several years, NNU's Board of Trustees has discussed and considered the possibility of changing the university's institutional nickname and mascot. In 2016, the board appointed a task force composed of NNU trustees, alumni (one of whom serves as a missionary), students, representatives of NNU athletics, and faculty members. The task force met several times and delivered a report to the board during spring semester 2017. After further consideration at the fall 2017 meeting, the board voted unanimously to change the university's nickname and mascot from "Crusaders" to "Nighthawks".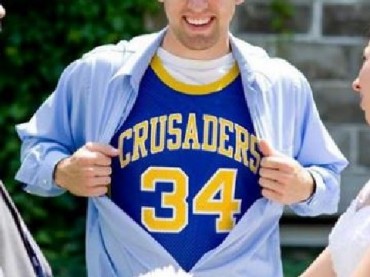 (Related: Math is a Front for White Supremacy — Math is Racist)
The university has slowly phased out its association with the Crusaders mascot. In 2006, it quit using the image of a crusader and started to "deemphasize the term within the athletic department and around campus."
In a Frequently Asked Questions webpage created to explain the name change, the university insists the decision is [sic] about being politically correct. Instead it claims "this change is an effort to assure that our nickname and mascot do not in any way impede the university's ability to fulfill its mission and be in ministry to others in an increasingly-interconnected global community."
(Related: AGAIN: Black Man Arrested for Racist KKK Graffiti at University)
However, Northwest Nazarene's Facebook post announcing the mascot change was lit up with comments lambasting the university for bowing to politically correctness. A university spokesman did not respond to The College Fix's request for comment regarding the criticism.
In the thread of comments on the Facebook post above, there are many complaints that the university is bowing to political correctness.
"Really disappointed that NNU is caving to social pressure. There is nothing wrong with Crusader. Over 100 years of identity and history just got tossed." — Rick Brooks
"Greatly disappointed that NNU has decided to change its mascot. There was nothing wrong with Crusaders. You have caved in to the history modifiers! Shameful! No backbone!" — Rick Smith
"So, instead of a noble character, NNU is going to adopt a Carnivorous animal that picks on helpless creatures smaller than itself? Nice choice." — Bill Killion
However, many commenters do support the decision and praised the university's decision to change the mascot.
"The crusades were an important time in church history, so they should be remembered, but not fondly. It's great to see that we are moving away from that representation." — A. Lucas Finch
(Related: Brown University Free Tampon Program Skips A Beat As Students Accuse Company Of Cultural Appropriation)
"While I attended NNU in 2001… I befriended all the foreign exchange students who were not believers. And the crusader was VERY offensive to them. They were shocked and put off by it." — Malia Keene-Johnston
"This change isn't about caving to the world's or Muslim pressure. Most of the students don't like the negative connotations of crusaders and the negative light the put Christians in." — Pamela Gerdes
NNU is not the first university to drop the Crusaders mascot. Earlier this year, Alvernia University also dropped the moniker in favor of a milder nickname.
Free speech is under attack. Share this article on Social Media by clicking the share button, do your part to keep independent journalism going.