Every political movement needs its own lexicon, its own history. Especially one that was as historic as President Trump's 2016 campaign and victory.
Finally we get that, thanks to conservative superstar and soon-to-be Fox News primetime host Laura Ingraham, the populist movement has both.
In what is sure to become an instant classic, Billionaire at the Barricades: The Populist Revolution from Reagan to Trump takes its readers on a fast-paced ride through the last fifty years to reveal how the battles between movement conservatives and GOP Establishment elites primed the pump for the populist revolution President Donald Trump's historic victory brought in.
(Trending: SAVAGE! James Woods RIPS Fake Feminist Lawyer Lisa Bloom For Attempting to Discredit Weinstein Accusers)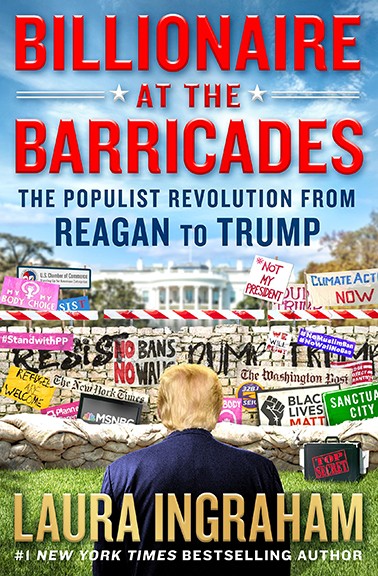 Billionaire at the Barricades breaks news, too.
Laura Ingraham reports never-before-told behind the curtain stories about the 2016 Republican presidential primary and general election as she helps readers relive Trump's electrifying victory all over again, including:
The real reason Donald Trump didn't pick New Jersey Governor Chris Christie as his vice presidential running mate
The intense and awkward backstage exchange between Ted Cruz and Laura Ingraham at the RNC Convention right before Cruz's infamous refusal to endorse Donald Trump during his speech
Laura Ingraham's hilarious secret "Twitter intervention" with Donald Trump at his Florida resort
How President Trump made policy shifts based on her Fox & Friends morning show appearances
The 4 communication keys Ingraham says will make or break the Trump presidency
The private meeting where Carly Fiorina tried to get Ingraham's presidential endorsement—and the reason Ingraham refused
What Dr. Ben Carson told Laura Ingraham after the explosive Hollywood Access Trump tape emerged
Beyond the juicy insider presidential election details, Laura Ingraham also does serious historical work. The book contains over 500 research endnotes, including archival historical documents.
Ingraham explains what "populism" and "economic nationalism"—terms many throw around but few understand—really mean; how Ronald Reagan (and Richard Nixon before him) were conservative-populist pioneers; and unearths fascinating historical facts during the presidencies of George H.W. Bush through Barack Obama that help explain why working class Americans finally had enough of being screwed by globalist schemes that they rose up and produced the greatest upset presidential victory in American history.
(Trending: Melania pushes back at Trump's ex-wife Ivana for calling herself first lady)
"It did not happen in a vacuum," writes Ingraham in Billionaire at the Barricades. "The forces that aligned and made [Trump's] victory possible had been gathering for decades as Establishment elites in both parties accumulated ever-increasing power for themselves."
Laura Ingraham's "Busting the Barricades" national book tour begins this week.
It is definitely worth a buy and read.
Free speech is under attack. Share this article on Social Media by clicking the share button, do your part to keep independent journalism going.