Leftists can lash out at President Donald Trump's daughter, Ivanka Trump, Knock Menalia Trump's shoes, and Ivanka's business enterprises because they feel "triggered" and want to take a stand for women everywhere. They can do that all they want.
But there is a growing number of women who, on some level, want to emulate them. One relatively new trend in plastic surgery proves it.
(Related: George Takei on Hurricane Irma — Do Not Rename Irma 'Ivanka' — Ivanka's 'Weak'…)
According to the New York Post, Dr. Norman Rowe, a plastic surgeon in New York City, says that since the summer of 2016, the number of women trying to look like Ivanka and Melania Trump has been surprising.
"I never saw (it) before the primary," Rowe told Page Six. "Since the summer of '16… (it's been) maybe four a month. One a week."
Plastic surgery is not a small feat. Rowe noted that women can spend as much as $50,000 trying to emulate Ivanka or Melania Trump through plastic surgery.
However according to Page Six, Rowe reported that since 2016, he has received as many as 50 clients asking him to help them look like the president's eldest daughter. Ivanka "now rivals Kylie Jenner as the most sought-after celebrity face," Page Six reported, referring to the youngest daughter of the nation's best known transgender Bruce "Call Me Caitlyn" Jenner.
And this is just ONE plastic surgeon.
(Related: Ivanka Sends Prayers to Harvey Victims In Stirring Tweet Leftists Respond in DISGUSTING Way)
So, what is it about Ivanka that inspires so much admiration?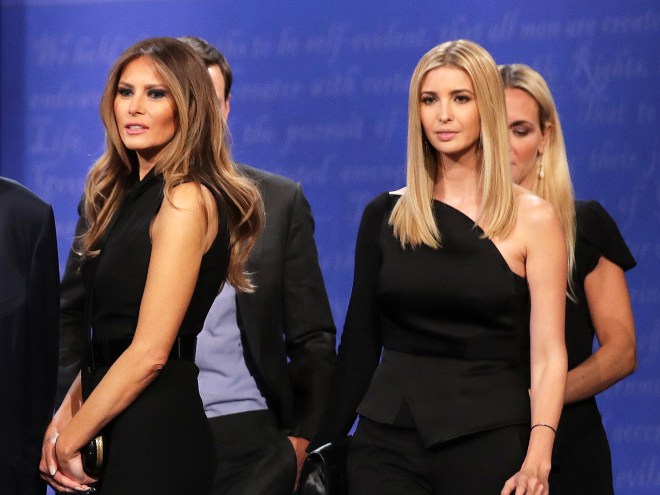 "Maybe they just like the look," Rowe said. "But also that (Ivanka's) a powerful woman, self-confident, part of the first family. Do they want to be her? Yes, deep down, maybe."
Rowe doesn't believe that politics really plays into the demand, aside from perhaps the exposure Ivanka's gotten as a member of the first family.
"I don't think it plays a role in the least," Rowe told Page Six. "I think it has to do with somebody who you respect the way they look, and I don't think it's anything to do with whether you're blue or red."
However, the plastic surgery trend hasn't carried over to other members of the first family.
(Related: Michelle Obama Made Vanity Fair's Just Released Annual 'Best Dressed' List — Melania Trump…)
"I've never had anybody come in and say, 'Make me into a Donald!'" Rowe added humorously.
But Ivanka isn't the only Trump that women are going under the knife for, a plastic surgeon in Houston, Texas offers a "Melania makeover" package. To achieve the first lady's look, it will cost you at least $50,000. The procedure that lasts nearly eight hours includes liposuction, botox, a buttock lift, rhinoplasty, and an eyelid lift.
The Trump plastic surgery mania has ladies all over the country wanting to look like the women in the White House, so far there has been no request for the President's look.
Well, haters gonna hate.
(Check out: Prince Harry Meets Melania Trump — Invictus Games in Canada (Photos/Video))
Free speech is under attack. Share this article on Social Media by clicking the share button, do your part to keep independent journalism going.