The Korean peninsula draws range of military drills in show of force against North Korea with Stealth Fighters, and live fire drills.
The US, South Korea, and Japan armed forced conducted joint military exercises over and near the Korean Peninsula on Monday in a massive show of force to North Korean leader Kim Jong Un.
Six American jets — two bombers and four fighters — flew alongside four South Korean and four Japanese fighter jets in the mission, US Pacific Command said.
United States and South Korean jets also flew near the Military Demarcation Line, an artificial border constructed in 1953 to separate North and South Korea, The Korea Herald reported.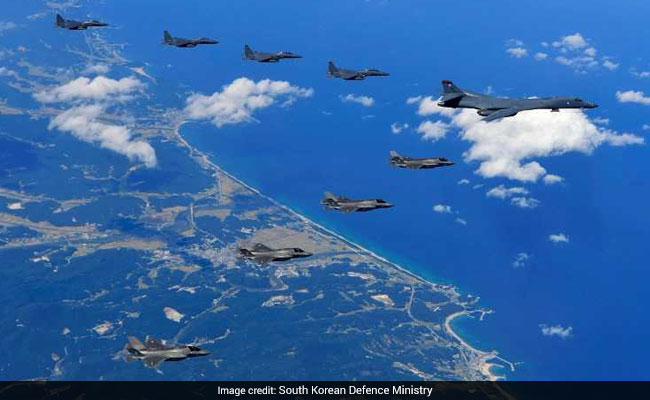 The joint exercises come as North Korea continues to demonstrate its own military prowess, and it coincides with the first day of the United Nations General Assembly, where North Korea is expected to dominate discussion. (Related: Watch — Nikki Haley: 'No problem' Letting Jim Mad Dog Mattis loose on North Korea)
Take a look at the photos below, provided by the South Korean Defense Ministry, to learn more about the military exercises.
The United States military held bombing drills with South Korea over the Korean peninsula and Russia and China began naval exercises ahead of a U.N. General Assembly meeting on Tuesday where North Korea's nuclear threat is likely to loom large.
The flurry of military drills came after Pyongyang fired another mid-range ballistic missile over Japan on Friday and the reclusive North conducted its sixth and most powerful nuclear test on Sept. 3 in defiance of United Nations sanctions and other international pressure. (Related: North Korea Fires Another Missile from Pyongyang In Unprecedented Threat)
A pair of U.S. B-1B bombers and four F-35 jets flew from Guam and Japan and joined four South Korean F-15K fighters in the latest drill, South Korea's defense ministry said.
The joint drills were being conducted "two to three times a month these days", Defence Minister Song Young-moo told a parliamentary hearing on Monday. (Related: President Trump on latest North Korean missile launch: 'All options are on the table')
In Beijing, the official Xinhua news agency said China and Russia began naval drills off the Russian far eastern port of Vladivostok, not far from the Russia-North Korea border.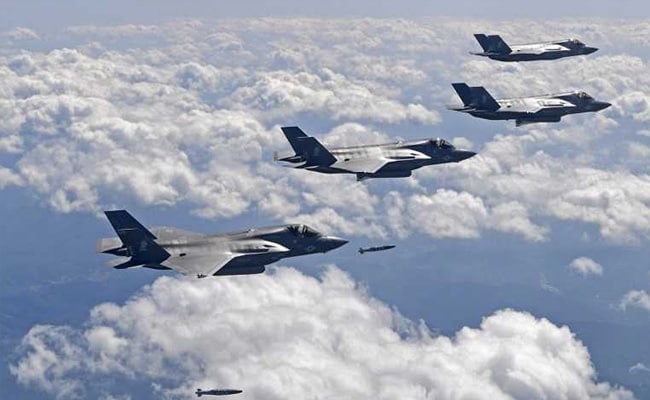 Those drills were being conducted between Peter the Great Bay, near Vladivostok, and the southern part of the Sea of Okhotsk, to the north of Japan, it said.
The drills are the second part of China-Russian naval exercises this year, the first part of which was staged in the Baltic in July. Xinhua did not directly link the drills to current tension over North Korea.
China and Russia have repeatedly called for a peaceful solution and talks to resolve the issue.
On Sunday, however, U.S. Ambassador to the United Nations Nikki Haley said the U.N. Security Council had run out of options on containing North Korea's nuclear program and the United States might have to turn the matter over to the Pentagon.
The US is ramping up pressure on the North, with its ambassador to the UN Nikki Haley warning that Pyongyang would be "destroyed" if it refused to end its "reckless" weapons drive.
The subject is set to dominate US President Donald Trump's address to the UN General Assembly and his meetings with South Korean and Japanese leaders this week.
Related: President Trump's U.N. General Assembly debut will affirm his 'America First' message
Tensions flared again when Kim Jong-Un's regime tested what it termed a hydrogen bomb many times more powerful than its previous device.
North Korea also fired a ballistic missile over Japan and into the Pacific on Friday, responding to new UN sanctions over its atomic test with what appeared to be its longest-ever missile flight.
Trump and South Korean President Moon Jae-In spoke by phone Saturday and vowed to exert "stronger pressure" on the North, with Moon's office warning that further provocation would put it on a "path of collapse."
Trump said he has not ruled out any military option, which could leave millions of people in the South Korean capital — and 28,500 US soldiers stationed in the South — vulnerable to potential retaliatory attack.
President Trump's National Security Advisor HR McMaster said the US would "have to prepare all options" if sanctions prove insufficient to stop the North's weapons drive. (Related: Seal Team 6 is training with South Korean assassination squad to take out Kim Jong-un)
Free speech is under attack. Share this article on Social Media by clicking the share button, do your part to keep independent journalism going.