Kathy Griffin is speaking openly about the shock photograph that was published last May in which she held up a bloodied head meant to resemble that of President Trump, and says she has every intention to continue to keep criticizing and attacking the president.
In a rather lengthy interview with New York magazine's The Cut, Griffin discussed the national outrage her photo shoot caused — Griffin was fired from CNN where she co-hosted the network's annual New Year's Eve broadcast alongside Anderson Cooper, faced a social media-led boycott that led to her stand-up shows being cancelled throughout the country, and was the subject of a Secret Service investigation — and says she isn't apologizing and is "obligated" to criticize President Donald Trump.
"Why are people still expecting me to apologize and grovel to a man that tweets like this?" she told the outlet. "I'm a comedian; he's our f—ing president."
"President Trump just pardoned Joe Arpaio, who was essentially running a concentration camp in the Arizona desert," she later explained. "He said there are some good Nazis, and he's kicking out young adults who were brought here as kids by their parents, and I'm the one who has to continue to apologize?"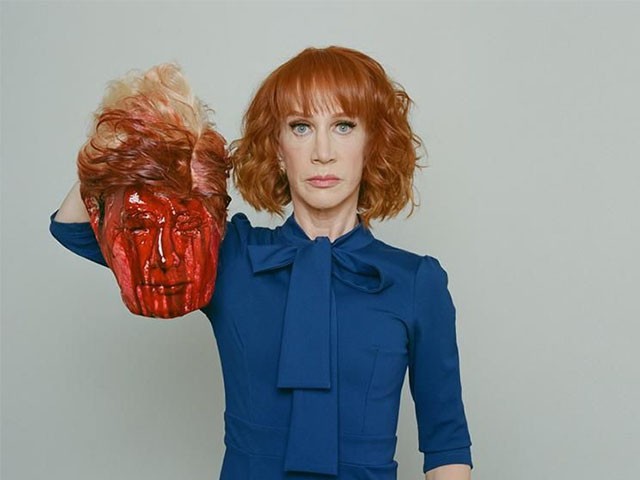 Trump tweeted that Griffin "should be ashamed of herself" and that her photo had been difficult for his children, including his 11-year-old son, Barron.
Just a few short months after the highly-publicized scandal, however, Griffin gives details like the fact that she is no longer friends with her longtime CNN co-host Anderson Cooper, and says several of her Hollywood friends consoled her quietly during the drama but declined to defend her in public when contacted by The Cut.
Now the beleaguered comedienne is looking ahead and says she wants to hold  a First Amendment concert with the ACLU; she's currently in the planning phase of a documentary film of her upcoming international tour, and will trash President Trump on foreign soil as opposed to performing U.S. shows because "she's still too worried about her physical safety to tour America," The Cut reports.
"Comedians talk about what their audience is faced with every day, we try to relate to our audience," she says. "I'm obsessed with politics. I always have been, and now, with Trump, many people are obsessed with politics, so that's going to be a big part of my act."
Kathy Griffin had released an apology video shortly after the controversy over the beheading photo began, in which she explained that she had made a horrible mistake and that her joke had gone too far. According to The Cut, it was longtime Donald Trump nemesis Rosie O'Donnell who convinced the comedienne to issue the apology, after the photo drew widespread criticism from both sides of the aisle.
But the apologies appeared to stop cold there; Griffin appeared on Australian morning show Sunrise Monday to slam President Donald Trump and his voters, because why not? It is what they do.
The 56-year-old got into a battle of words with Sam Armytage while promoting her upcoming comedy tour. When asked if the photo went too far below the belt, Griffin told the morning show host "you're full of crap."
"Stop this. You know this. Stop acting like my little picture is more important than talking about the actual atrocities that the President of the United States is committing," Griffin said.
"No, I don't apologize for that photo anymore and I think the outrage is complete BS because we have real things to deal with," Griffin added.
After Armytage again and again insisted that she was asking fair questions, the My Life on the D-List star said "No I got it. I got your number. You're like a white Trump voter in America. I got your thing."
Free speech is under attack. Share this article on Social Media by clicking the share button, do your part to keep independent journalism going.