Louisiana based disaster rescue group Cajun Navy says looters shot at them during a rescue effort.
According to the Louisiana-based rescue group, "looters" fired gun shots at members of their organization during a rescue effort in the Hurricane Harvey disaster area on Monday. While thankfully no one was injured, the group posted several warnings on Facebook about the possible threat posed by those criminal elements taking advantage of the crisis and said they had to temporarily "stand down" their efforts of rescuing and helping stranded and distraught Texans after the attack.
Groups of first responders from Louisiana's Cajun Navy, which NBC News-affiliate WDSU notes "become widely known across the state for its response efforts during natural disasters," have begun to arrive on the catastrophic scene in Texas with boats and rescue equipment.
But on Monday, the group posted a disturbing message warning that they had come across suspected looters who originally acted as if they needed to be rescued but then attempted to take over their boat, firing gun shots at them in the process. (Related: University Professor: Texans 'Deserve' Hurricane Harvey Because They Voted For Trump)
"Clyde and the other team members are safe," the post read. "Looters decided to pose as people needing rescue and they attempted to overtake the boats and there were shots fired at the boats. I repeat they are all safe. Looters must have not wanted our boats in the water for rescues. Please feel free to share this post. We are currently on stand down pending a new strategic plan."
WDSU provided a screenshot of Cajun Navy's initial post (which was then deleted and replaced by a video providing quite a bit more information):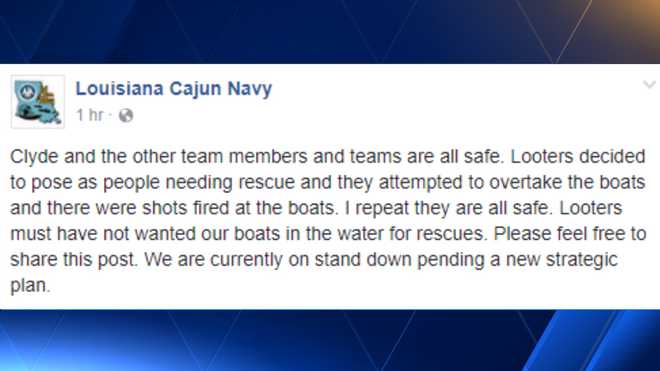 A Cajun Navy group member later posted the following video emphasizing once again that no one was injured and provided more details about the encounter with suspected looters:
The Louisiana group's posts are certainly not the only reports of violence, and criminal activity from looters. Houston government officials say they've had to direct some of their resources to rounding up criminal elements.
"We've already arrested a handful of looters. We've made it real clear to our community we're going to do whatever it takes to protect their homes and their businesses," said Houston Police Chief Art Acevedo Monday. "And when people come from the outside to Houston, Texas, know we're going to be out in the city, we're not going to rest as a police department or law enforcement community until people restore their lives."
While some have tried to take advantage of the pain and suffering in the region for personal gain, there have been many more stories about the selfless acts heroism of everyday Americans, like a group of young teenagers who helped rescue at least 50 people and the Cajun Navy, who are still out there lending a helping hand. (Related: Watch: Weather Channel Anchor Drops Everything to Make a Very American Rescue)
More images from Houston below:
Free speech is under attack. Share this article on Social Media by clicking the share button, do your part to keep independent journalism going.