Leftists literally wasted no time in using Hurricane Harvey to tout their political agenda of climate change and global warming. Some even said those in the region deserved the storm because of their disbelief in the climate notion. Others jabbed at the president for his policies.
MiG and Nazi Killer Tweeted a video with the caption, "When you realize that Hurricane Harvey is mostly affecting Trump voters and people that don't believe in climate change."
https://twitter.com/thegallanthours/status/901379962543984642
YAY SPORTS @icecreamiscool_ noted, "I like how liberals are desperately making Harvey about race and climate change already."
https://twitter.com/icecreamiscool_/status/901434968269877248
A search of "climate change and Harvey" in Twitter brought up the following climate change chat and Trump bashing.
Dr. Michael Riccioli @curvedway, an English lecturer at the University of Paris-Dauphine,  Tweeted, "#Hurricane #Harvey: Can Mr Trump go on telling all and sundry that there is no such thing as climate change ,,, I wonder." He also Tweeted:
@charleshogan54 Tweeted this video of the hurricane winds saying, "Apparently Hurricane Harvey isn't aware of Republican views on climate change and is going to Hurricane anyway ….
Apparently Hurricane Harvey isn't aware of Republican views on climate change and is going to Hurricane anyway …. pic.twitter.com/jU5FPzBP48

— Charles Hogan (@charleshogan54) August 25, 2017
@tancopsey Tweeted an article by former Democrat Texas mayors Henry Cisnerous and Annise Parker saying:
More climate change and Harvey comments on GAB and Tweeter:
Henk van der Wilt @VDWILT on GAB posted, "Harvey  will be the first Texas hurricane since Ike in 2008, and will, of course, be blamed on 'climate change.' In 1886 4 hurricanes hit Texas with 2 being major!!"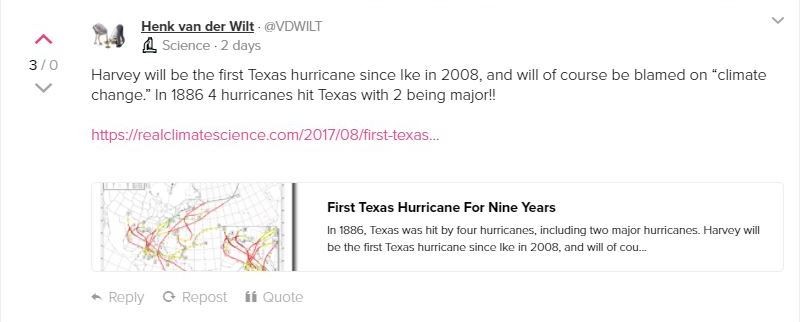 Matt's w/Trump @OneLastRun54 responded to the issue by Tweeting a cartoon and stated, "I'm sure if libtards had there way…#Harvey would be named #HurricaneMuhammad & it's called weather not #climateChange."